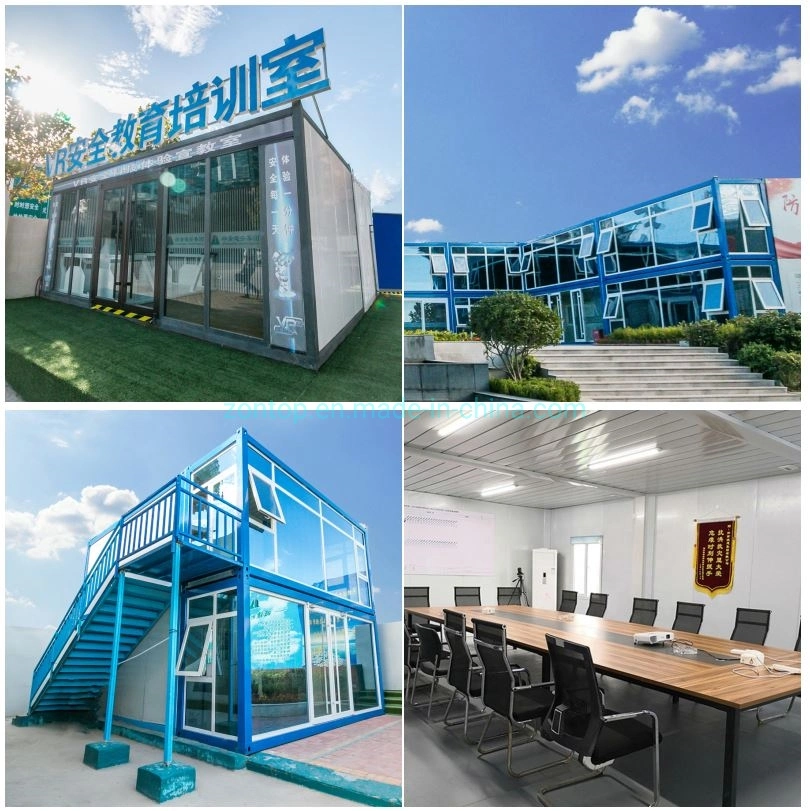 Flat pack container house
is made of
hot
-form
ed
galvanized steel
structure
and sandwich
panel.The main frame concludes
three modular parts:
top
frame, corner column
s
and
bottom

frame
.I
t is easy to assemble the modular parts toge
th
er at
construction site. With one
basic
container house, it can be combined
both
horizontally
(units quantity as your requirement)
and
vertically
(3 storeys
)
.
Advantages:
1.High quality, attractive appearance, practical use


2.W

ater and fire proof,anti-quake and anti-rust


3.Good insulation,long life span
4.easy assembly,saving time and labor
5.F

lexible combination in any style

Item
K house

Parameter

Dimension

6058*2438*2896mm

Material

Structure: Light steel structure




Wall & Roof: EPS/Rock wool / glass wool

Used

Construction

site,

Temporary office

,

Dormitory, Warehouse

, hospital,school

Storey

Single storey,two storey,three storey

Life span

Against with corrosion and durable in 15 years.

Layout

The position of windows and doors can be arranged at any place, interior wall could be adjusted as need.

Environment-friendly

container house could be assembling and disassembling 5~10 times without construction waste.

Wind-resistance

Grade 11

Earthquake-resistance

Grade 8

Live load capacity of roofing

0.6kn/m2

Wall permitted loading

0.6kn/m2

External and internal wall heat transmission coefficient

0.35kcal/m2hc

Density of Glass wool

35~56 kg/m2

Density of EPS

8~12 kg/m2

Delivery time

Normally 15 days

Container loading

5 units

/40HQ

We have 8 production lines for prefab house series(Month capacity: 220,000M2); 4 production lines for
container house series(Month capacity: 1,800units); 3 painting production lines. With different professional
production lines and strict production process, our products will be lighter with more strength, anti-rust,
fireproof, waterproof, heatproof and silence functions. All our products have been widely used for labor
camp, office, living home, warehouse/workshop, high rise building, poultry industry etc. The according
products are flexble installation, good and comprehensive economic efficiency, environmental protection.

Zontop pre-order work:with powerful support from our design department, we will provide you the suitable
solution according to your requirements. Zontop after order work: 380 installation staff and 30 service
engineers under our management team for our customers, part of experienced engineers will be trained
with both site ability and language ability to meet overseas market demand gradually. We look forward to
joining your hands to create a brighter future.Your inquiry is welcomed at any time.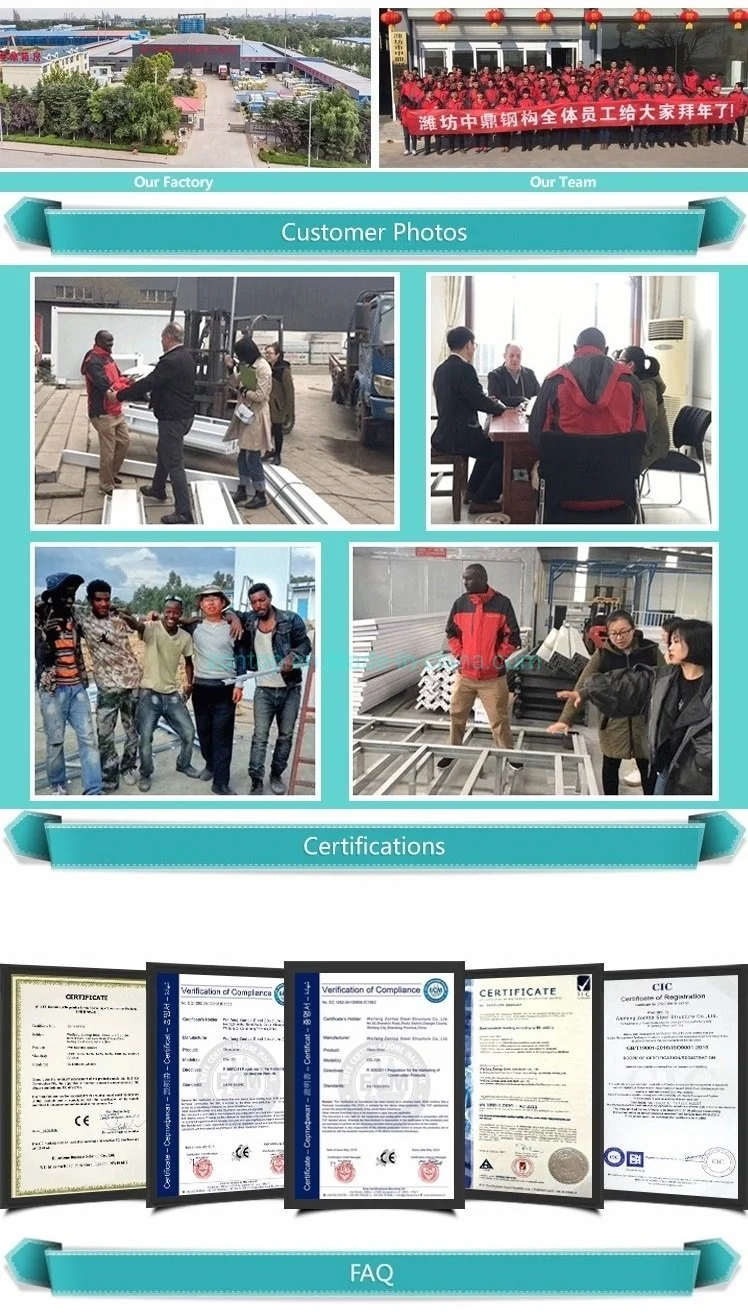 Q1: Delivery time
A1: The delivery time is according to your quantity and color,generally it is within 15-30 days.
Q2: Month Capacity
A2: Prefab house: 220,000m2, Container house: 1,800units.
Q3: How to install
A3: We will send install instruction and video for you,technicians will be sent to help you if it is
necessary. However,the visa fee,air tickets,accommodation,wages will be provided by buyers.
Q4: Pre-order work
A4:Proposal drawing, Shop drawing, 3D drawing, Materials photos, Finished projects photos,
design works are available according to
your requirements.
Q5: Package
A5: Container house is in flat pack. Other houses will be loaded into shipping
containers(main structure and panels in bulk, door/
ceiling / floor tiles / furniture in cartons,
sanitary / electrical /plumbing/ hardware/ fittings/ tools in wooden case ).
Q6: Lifespan & warranty period
A6: Prefab house lifespan 10years, Container house lifespan 15years, and Steel structure
building lifespan 20years. All kinds houses warranty period 12months from the delivery.